1914 Iowa State Fair Races Between Auto Racer Eddie Rickenbacker, and Daredevil Pilot Lincoln Beachey
On September 4, 1914, Lincoln Beachey raced his biplane around the Iowa State Fair racetrack against a Duesenberg auto driven by Eddie Rickenbacker, who later became a WWI Flying Ace. Beachey, flying as close as 10 feet to Rickenbacker's auto, agreed to circle the track four times to Rickenbacker's three, giving him a head start of one lap. Rickenbacker won the race. His three laps were clocked at 1:45 4/5, Beachey's four laps were clocked at 1:50. His airplane was a Beachey-Eaton Pusher powered by a Gnome 80 hp Engine.
Biography of Eddie Rickenbacker - Auburn University
Lincoln Beachey: A Brief Biography - Carroll Gray's Lincoln Beachey website.
Two Stills From The Film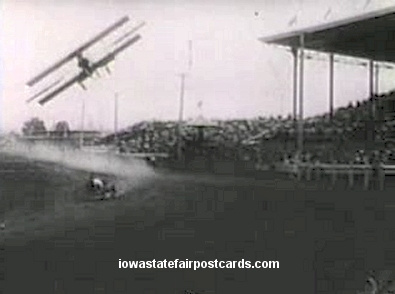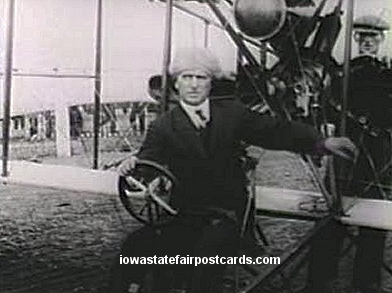 © Copyright 2003-2008 by Ron Playle. This Site Powered by PLAYLE'S SOFTWARE