The Iowa State Fair in Vintage Postcards ~ by Ron Playle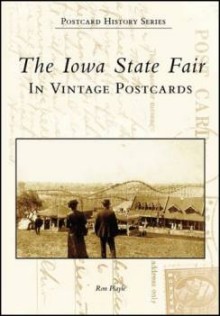 Each August, the Iowa State Fairgrounds, home to America's quintessential state fair, becomes 400 acres of sights, sounds, and aromas. More than just a showcase for farm machinery, the fair has one of the world's largest livestock shows, hundreds of competitive events, first-class entertainment, and every imaginable food-on-a-stick. The first Iowa State Fair, held in 1854 at Fairfield, drew 10,000 visitors, and attendance now tops one million each year. Listed on the National Register of Historic Places, it has been held at its present location in Des Moines since 1886. In the early 1900s, fairgoers could choose from a large selection of postcards, stick on a penny stamp, and mail them to friends to describe their blue ribbon, an exciting midway ride, or the great entertainment. Over 190 vintage postcards provide glimpses of the Iowa State Fair from the 1890s to the mid-1950s.
I think you will enjoy looking at the images of early Iowa State Fairs, seeing the way fairgoers dressed, and the how the fairgrounds looked in the early years. You will read about those great old grandstand extravaganzas and daredevils. You will find lots of interesting historical tidbits and fun facts that I uncovered in researching this book. To list a few:

The "First Photograph Ever Taken from the Clouds" was an aerial photo of the fair in 1906.
Douglas MacArthur, who later became WWII supreme allied commander, set a world's record at the fairgrounds in 1909.
The 1909 appearance at the fairgrounds of the first powered aircraft of any type to be purchased by any branch of the U.S. Military.
The first auto races at the fair were held in 1901, not in 1911 as previously thought, between two steam-powered autos.
The story about a young woman, who in 1904 was arrested when she was found sitting on the lap of a young man at the fair entrance.
Published by Arcadia Publishing
128 pages, softcover 6-1/2" x 9-1/4"
Price: $19.99 postage paid in U.S.
Other countries email ron@playle.com for postage.
Note: Author will autograph by request
Questions: email ron@playle.com
I accept
payable to ron@playle.com
Or send your order with check or money-order to:
Ron Playle
PO Box 943
Des Moines, IA 50304, USA.
Optional: Print and mail the coupon below